Chian Kho

Principal
[email protected]
eVoice +1.949.225.3400 Extension 108
Mobile 714.679.8317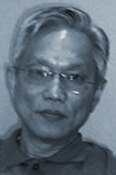 Chian Kho joined Vantera in 2004. He arrived to the United States in December 1975 and enrolled in El Camino College, earning his first degree in 1978. He then earned a B.S. in Finance in 1980 and an MBA in 1982 from California State University, Long Beach. During his undergraduate program he also completed a certificate program in International Business.
He joined McDonnell Douglas, Douglas Aircraft Company, Offset and Counter trade Programs in 1980 as an Intern. In 1982 he was hired full time, and served as a Senior Specialist/Project Manager through June 1990. He was initially responsible for the "Hams for Aircrafts" program with Yugoslavia, and, in 1986, joined the China program where he was responsible for the implementation and management of counter-trade business in excess of $500 million and eleven major aerospace sub-contracts valued at $85 million. He negotiated and concluded mineral trade agreements between three Chinese provincial authorities and major U.S. corporations valued at $2 million per year from 1987 through 1992.
From June 1990 through December 1992, Chian was employed at the McDonnell Douglas Systems Integration Company where he launched the aircraft maintenance systems integration department. He was also responsible for strategic planning, identifying key customers and markets, and acquiring third-party enabling technologies for the McDonald Douglas platform.
In 1993, after his business unit was purchased by EDS, he joined Morningside North America, as a consultant to this family-owned private investment house that is one of the wealthiest in Asia. He assisted the team at Morningside in identifying U.S. candidates in the area of international licensing for the firm's China investments related to dry cleaning equipment, pulp and paper manufacturing and building materials.
Since 1998 he has owned an import and export management company with the principal activities in Asia and principally China. He joined Vantera Partners  to work primarily on China-related projects.