Thomas K. Lillig

[email protected]
eVoice +1.949.225.3400 Extension 109
Mobile 949.350.5971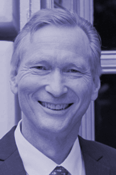 Mr. Lillig has been engaged in the maritime shipping industry for 15 years.  He managed a production facility for bow thrusters before joining a ballast water treatment system ("BWMS") developer in 2009.  He planned the first test facility for BWMS in tropical Singapore working very closely with the facility developer.
Tom became an expert in American and international rules and regulations for ballast water management by developing and implementing a stringent verification program for Ballast Water Management Systems based on USEPA ETV Protocols and the IMO BW Convention. He has managed testing, prepared the dossier for the IMO type approvals, and supervised BWMS installations for multinational customer teams.
Tom represents a leading BWMS manufacturer in the Americas and in South-East Asia as Technical Sales and Business Development Director and previously acted in similar capacity for a BW filter supplier in South-East Asia. He has established a far-reaching network in the maritime world and built relationships with government agencies, developers, ship owners and class societies.
As a consultant Tom establishes Quality Management Systems (QMS) according to ISO 9001-9015, leads audits, develops and improves quality manuals and processes, and performs QMS training. He also develops website content and layouts, as well as marketing plans and materials for clients in various industries including early-stage companies. Tom thrives on challenging projects requiring creativity.
Prior to his experience in the maritime industry, he worked in a variety of high technical industries including semiconductor equipment, medical devices, lasers, and high-end optics, in Germany, Singapore and the USA.  Tom currently splits his time between California and Singapore, where his wife, Vanya, works. He holds a BS/MS in Physics and received an MBA from Webster University. Tom lives in his homes in Singapore and Irvine CA.